Junior Does
First Freshening Two Year Olds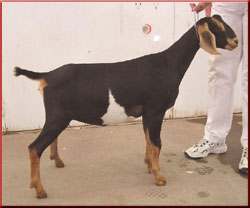 SS: *B Regehrs Alginon's Ace
Sire: Blue Thunder Sequoia
SD: CGS Borderline Sun Wynonna
DS: My Enchanted Acres Heartthrob
Dam: CH Nubilop Acres Mystique Cricket
DD: Nubilop Acres Vu's Mystique
DOB: March 2008
Sassy Cricket is a very stylish doe and very similar in appearance to her dam, Cricket. She is a smaller doe being slower to mature. She was only shown once last year placing 2nd in her class and was not shown in 2009. She has a very rounded escutcheon area. Her disposition is much like her dam's, very easy going and yet has to have her nose into everything.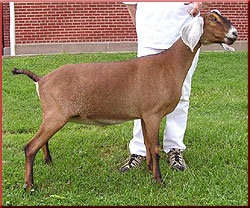 SS: Sweet Harvest Yankeedoodledandy
Sire: Little Bic's Honey's Hot Shot
SD: CH Little Bic's Sweet Honey
DS: My Enchanted Acres Heartthrob
Dam: Nubilop Acres Pansy's Jasmine
DD: Nubilop Acres Orchids Pansy
DOB: March 2008
If Star Lilly has a rear udder like her mother with a longer fore udder, she will certainly be a doe that will remain in our herd. Unfortunately, we did not keep her dam as we had some significant problems with mastitis with her. Star Lilly has the general appearance and dairy character to remain in our herd - we just have to wait on that mammary system. She was shown in the 2009 show season as a dry yearling, winning 3X Junior Champion, 1X Reserve Junior Champion, and 2x Best In Show. Her dam classified VG86 (VVVV) as a first freshening two year-old in 2008.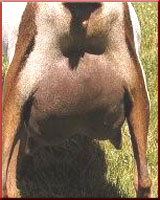 Dam: Nubilop Acres Pansy's Jasmine
SS: Little Bic's Honey's Hot Shot
Sire: Nubilop Acres Gi's Way Too Hot
SD: CH Nubilop Acres Charisma's Gigi

DS: Prairie Sky Farm Pearls Equity
Dam: Nubilop Acres Honeysuckle BLSM
DD: CH Nubilop Acres Scoobee Doo

DOB: May 2008

Orange Blossom is a doe that as she matured over the summer only got better and better. Star Lilly was beating her at the beginning of the show season but as the season progressed, Orange Blossom was winning over her herd mate, Star Lilly. I like the looks of this doe. She is smoothly blended with a nice front end, level over her topline and a very high and wide escutcheon area. Her dam had a very pretty fore udder extension, but did not have the height of rear udder attachment that we like to see, so we are keeping our fingers crossed that Way Too Hot will give her that. During the 2009 show season she was 2X Junior Champion and 2X Reserve Junior Champion.
Yearlings to Freshen
Nubilop Acres Cricket June Bug
Nubilop Acres Tu's Golden Girl
Nubilop Acres Gi's Sweet Thang
SS: Little Bic's Honey's Hot Shot
Sire: Nubilop Acres Gi's Way Too Hot
SD: CH Nubilop Acres Charisma's Gigi

DS: Nubilop Acres Passionate Lover
Dam: Nubilop Acres Ginger's Paprika
DD: Nubilop Acres Marigolds Ginger

DOB: April 2009

Oregano got off to a slow start at birth being very small and is finally catching up with her peers. We kept her dam, Paprika, as a yearling milker this year. Her dam is a little smaller in stature but has done a lot of growing this summer. Her dam has beautiful general appearance and a beautiful rear udder with proper teat placement. We would like to see a little longer fore udder extension, but feel that should improve as she matures. Oregano's maternal granddam is sired by Heartthrob. Oregano will be our youngest yearling milker to freshen this next spring being born the end of April.